Are you looking for reliable, professional painting services in Marietta? Are you tired of dealing with contractors who disappoint you with delays and deceitful extra charges? When it comes to Marietta painters, the clear choice is Mike's Painting & Flooring. With over 20 years of experience around metro Atlanta, we've earned the trust of many satisfied customers, and want you to be next on that list. Our crews of expert Marietta painters take great pride in the quality of their workmanship. They are prompt, courteous, and always put your satisfaction first. Whether you're looking to completely transform your color scheme throughout, or just need interior or exterior, Mike's can handle any size job. Our expert painters are experienced in many finishing techniques, and will take great care to get the job done right from initial surface prep to the final coat. Furthermore, we use the best quality paints, such as Valspar and Sherwin Williams, and will not sacrifice quality when it comes to achieving a superior result you deserve. Our pricing will be fair, and we'll always stick to our quote once work is begun. So read on to learn more about your hometown Marietta painters!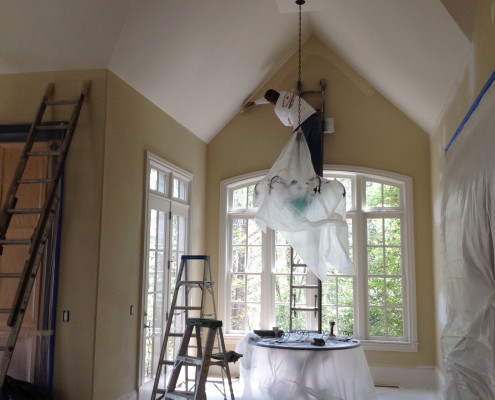 When it comes to achieving the result your home deserves, Mike's has the Marietta painters who can deliver. Here are some of the steps we take to make sure each job is done right and our customers are happy.
The first step to a superior result is ensuring a smooth surface prior to paint application. This means sanding and prepping walls, woodwork, and any other surfaces properly. After the sanding is completed, it's not time for paint. First comes primer, and our Marietta painters use only the top quality primer products. The crew also makes certain to prepare all bathroom and kitchen surfaces to adequately prevent mildew and mold long after the paint is dry.
Now that all the prep work is done, it's time to apply those beautiful colors you've selected. Once again, quality materials lead to superior results, and Mike's Painting & Flooring pros will not skimp on using the best products available. Throughout the paint application, our crews are continuously taking steps to achieve the best result. We do all the little things to make for perfect lines, eliminate brush and lap marks, blend corners and trim with walls, and protect windows and floors from any spills.
Finally, once the paint is dry, final touch-ups applied, and the job is done, you can rest easy knowing that our crews will leave a clean worksite. As you can see, our hometown Marietta painters have the expertise and service that guarantees your satisfaction.
Our Warranty Is A Real Warranty, And We've Got Deals For You!
Mike's Painting and Flooring has the experienced Marietta painters who can handle any residential or commercial painting needs. Our company is licensed, bonded and fully insured, and we'll meet our promised deadline to complete the project.
So what are you waiting for? It's time to give your house a makeover! Call Mike's Painting & Flooring today to schedule a consultation, and get the beautiful interior and exterior look you deserve! And don't miss out on our current specials : 10% off interior painting, and $250 off exterior painting.